KNS Z4MK2 SuperTack VSAT System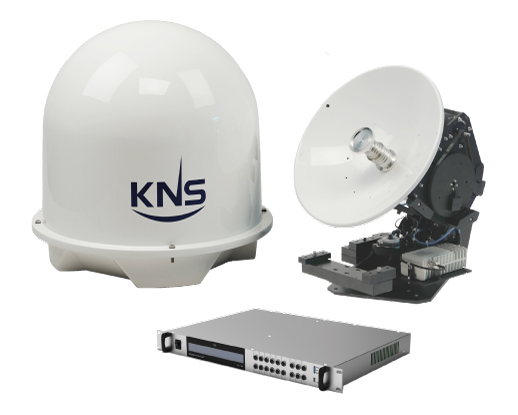 Z4MK2
The SuperTrack Z-Series is the perfect solution for ships
looking for broadband speeds at sea. Stay in touch with
your networks via high speed access to the internet,
email, multiple VoIP ph
The SUPERTRACK Z-Series is the perfect solution for ships looking for broadband speeds at sea.
BEST COMPACT VSAT SYSTEM
4MK2 is market proven and the best VSAT system for the
customers who are looking for compact VSAT for their
vessels such as Fishing boats, Yachts and other Commercial Vessels.
OPEN AMIP
The most mandatory feature for HTS application is Open
AMIP Protocol to switch the beam to other satellite when
your vessel is going among different satellite footprint.
The Z4MK2 has Open AMIP for HTS connectivity in
excellence.
COST AFFORDABLE
With all the innovations, SUPERTRACK Z_Series MK2 has
its various line-up and you can fulfil your needs with
affordable costs. Therefore the Z4MK2 will be your
perfect answer for your demand
Stay in touch with your networks via high speed access to the internet, email, multiple VoIP phones and more.
STANDARD FEATURES
Automatic Satellite Search & Skew Control
Accurate Signal Acquisition by KNS's Distinctive Algorithm
Pre-Programmed Satellite Database
Editable 80 Satellite data
Antenna Control Unit
3 Types of Gyro Input (NMEA, Synchro, Step by Step)
CE & RED Certified
Polarization Skew Control
Open AMIP (Antenna to Modem Interface Protocol) Supporting
2 Ch Rotary Joint Applied
HYBRID (TVRO + VSAT) Capable (Kt sat bundle product Only)
ABOVE DECK
Dish Diameter
45cm (18\\\")
Antenna Dimension
60cm (D) X 69cm (H)
Antenna Weight
32kg
Radome Material
FRP
Frequency
TX: 13.75 ~ 14.5 GHz
RX: 10.75 ~ 12.75 GHz
Antenna Gain
TX: 34.38 dBi @ 14.25 GHz
RX: 33.11 dBi @ 11.75 GHz
G/T
12.3 dB/K (in Radome)
@ 30 deg Elevation angle and 11.75GHz, Clear Sky
Operating Platform
3/4Axis(Azimuth,Yaw,Cross,Elevation)
LNB
Single PLL LNB / Universal LNB (Optional)
BUC
4W / 6W (Optional)
Skew Control
Automatic
Elevation Angle
-20˚ to +95˚
Azimuth Range
640˚/Ultimited (Option)
Cross Angle
±35˚
Ship Motion
Roll: ±20˚ at 8-12 sec periods
Pitch: ±10˚ at 6-12 sec periods
Yaw: ±8˚ at 15-20 sec periods
Tracking Speed
More than 90˚/sec
Vibration Damper
Rubber Damper Included
Temperature
-20℃ to +55℃
Humidity
Up to 100% @ 40℃
Antenna Input Power
24V DC, 2.7A
BELOW DECK
| | |
| --- | --- |
| ACU Size | 253 X 175 X 44 mm |
| Gyro Interface | NMEA 0183 |
| Input Power | 100 to 240V AC, 50/60Hz, 1.5A |
| Output Power | 24V DC, 2.7A |
| External I/O | Mini-USB |
PACKING
| | |
| --- | --- |
| Size | |
| Gross Weight | |
| Packed by | Paper Carton |
| Certification/ Qualification | |
WARRANTY INFORMATION
KNS offers 3 year parts, 1 year on-board labour warranty for the SUPERTRACK series.
WARRANTY
We are serious about our professional services and business. We strive to provide the highest level of support and products. KNS Inc will support its Super Track Z-Series products with an exclusive THREE (3) YEAR, 100% Warranty on PARTS from KNS, and a ONE (1) YEAR Warranty on LABOR from Authorized Dealer (Seller).