KNS ANTENNA C5 KA BAND SYSTEM VSAT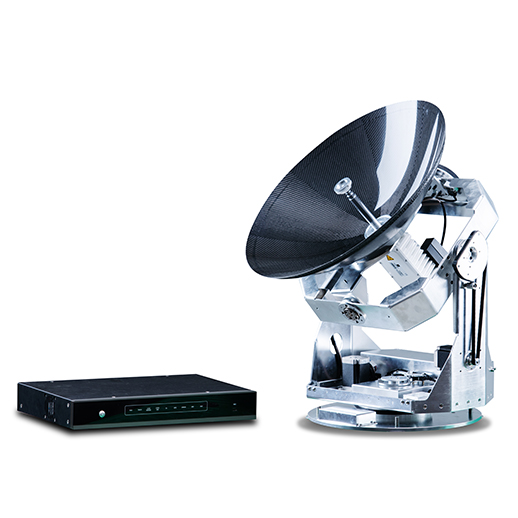 C5
The true three-axis stabilization system of C_Series will enhance the connectivity and eliminate the keyhole effect even though when you are cruising the Equator region. You will feel definite difference of quality within budget.
STANDARD FEATURES
• In-built DVB-S2X Tuner
  Carrier SNR direct tracking is available
• Two types of VSAT Options
  BUC/LNB version with Open BMIP compatibility
  Transceiver version
• Standard Rack Mount ACU
• True Reliable Tracking system
  Based on Inverse Kinematics Technology Tracking
  Algorithm, Antenna tracking performance is reliable.
• High Performance Stabilization in Rough 
   Weather
• Automatic Satellite Search
• Accurate Signal Acquisition by KNS's 
  Distinctive Algorithm
• Pre-Programmed Satellite Database
  Editable 80 Satellite Data
•High Gain Reflector
• Web interface & Remote software upgrade
   M&C function and firmware upgrade fully sup
   ported via web interface.
• Graphic monitoring support
   Antenna signal strength or RSSD can be moni
   tored through web GUI via PC and other
   wireless device such as Tablet PC and Mobile
   phone
• WiFi support
   ACU can be operated by WiFi interface, a sea
   mless wireless interface between user and ACU
• Open BMIP compatibility
   Support Open BMIP mainly for Inmarsat GX
   platform
• Built in GPS
ABOVE DECK
Dish Diameter
55cm(22″)
Antenna Dimension
76cm{D} x 80cm{H}
Antenna Weight
35kg
Radome Material
Plastic
Frequency
3W for Transceiver / TX : 29.5 ~ 30.0 GHz RX : 17.8 ~ 20.2 GHz

5W for BUC/LNB / TX : 29.0 ~ 30.0 GHz RX : 19.2 ~ 20.2 GHz

Antenna Gain
BUC/LNB configuration / TX : 42.7 dBi @ 29.75 GHz RX : 39.5 dBi @ 19.95 GHz
G/T
16.73 dB/K( in radome)
@30deg.Elevation angle and 19.95GHz, Clear sky
Operating Platform
3 – Axis
LNB
Universal LNB
BUC
3W for Transceiver or
5W for BUC(optional)
Skew Control
-135˚ to +135˚
Elevation Angle
-10˚ to +115˚
Azimuth Range
690˚
Cross Angle
Tilt Angle: -20˚ to +20˚
Ship Motion
Roll : ±20˚ at 8-12 sec periods
Pitch : ±10˚ at 6-12 sec periods
Yaw : ±8˚ at 15-20 sec periods
Tracking Speed
More than 90˚/sec
Vibration Damper
Temperature
Humidity
Up to 100% @ 40˚C
Antenna Input Power
BELOW DECK
ACU Size
Gyro Interface
Input Power
100 ~ 240V AC, 50/60Hz, 4.0A
Output Power
24~48V DC
2.3A max. per each RX/TX port
External I/O
Mini-USB, USB, Console,
Ethernet, Wi-Fi
PACKING
| | |
| --- | --- |
| Size | |
| Gross Weight | |
| Packed by | Paper Carton |
| Certification/ Qualification | |
WARRANTY INFORMATION
WARRANTY
2-year parts warranty